storpic
reviews that bring people to your products
Earn more with reviews
Almost 80% of customers decide based on reviews
You can also prove by reviews that your product is great.
There are a number of services that work with data and analyze online reviews. They scan the web and evaluate what is being said about your product.

It's good to have useful charts and reports. But it is essential to have something to create from them.

you need tens, hundreds, thousands of reviews and at the same time you want to control them.

Simply: You need a storpic!
Get quality reviews with storpic
You definitely want to talk about your products. You want to have an overview of product promotion and move it in the direction that suits you.
So how does storpic work in short points?
We developed storpic for companies such as administrative management interface an unlimited number of requested reviews and comprehensive communication tool with reviewers.
1. New reviewer

If a reviewer meets the conditions to review your product, storpic will allow him to sign up for a review and you will be notified immediately. If you approve the reviewer, he can immediately start writing his story on a blog, Facebook, or other review portal.

2. New story

Storpic informs the reviewer of the conditions that his story must meet, based on the definition of your campaign, and at the same time guides the reviewer to ensure that all your conditions are met. Upon completion, you will receive an immediate notification. It's up to you to thank the reviewer for his work. A discount coupon to buy in your store? A review print of your book? Good dinner in your restaurant?

3. And the story can continue

This way, you will be filled with a database of reviewers and their stories that you can use for your marketing purposes. If you've been a reviewer before, why not offer them to review your other product? Why not ask him to use his words, photos or media on his social networks?
---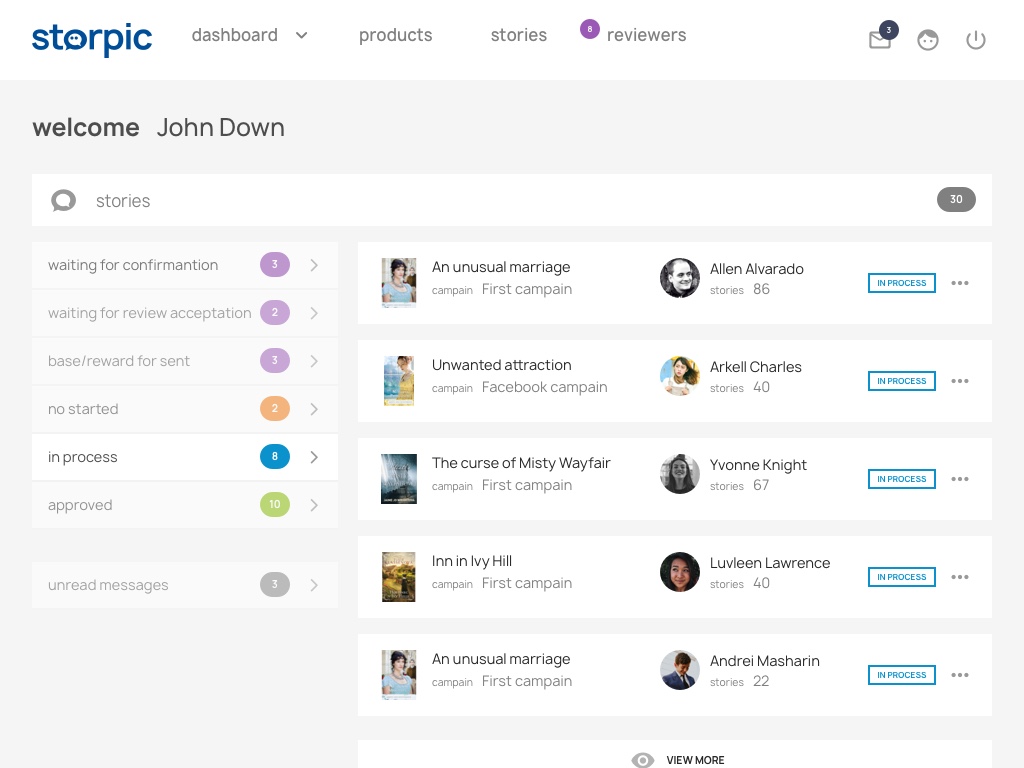 Automatic management of review campaigns
Let others tell your story
The most trusted "sellers" are your own customers
Through storpic, you will tell your reviewers where and how you want them to write about you. No, storpic does not dictate to them what to write, but defines the topics and other requirements that a quality review must meet. Storpic makes sure that every review meets them.
Blogs
Do you want the reviewer to write an article about your product on their own blog? Storpic will ensure that it has at least 500 words and contains a link to your site.
Facebook
An organic post on a Facebook user's private wall is priceless. Storpic checks that people can really see him there.
Reviews portals
Are your products sold on the Internet and do you want their reviews to increase in these e-shops? Storpic will tell this your reviewers and make sure the reviews are there.
Managing so many of reviewers and checking requests in hundreds to thousands of reviews is challenging in the spreadsheet and unnecessarily expensive. Storpic will tell you what you want the review to include, where it should be placed, and it will do the rest of the work for you.



What can storpic help you with?
Reviewers

Registration, selection, choosing reviewers and communication with them

Review campains

Design of simple but also complex conditions of product review campaigns, so that you can make the best use of the review potential for your customers

Reviews

Based on the conditions of the review campaign defined by you, Storpic will check whether the reviewer you selected has met all ofthem and whether he is entitled to a reward, or whether reviewer is suitable for reviewing another your product.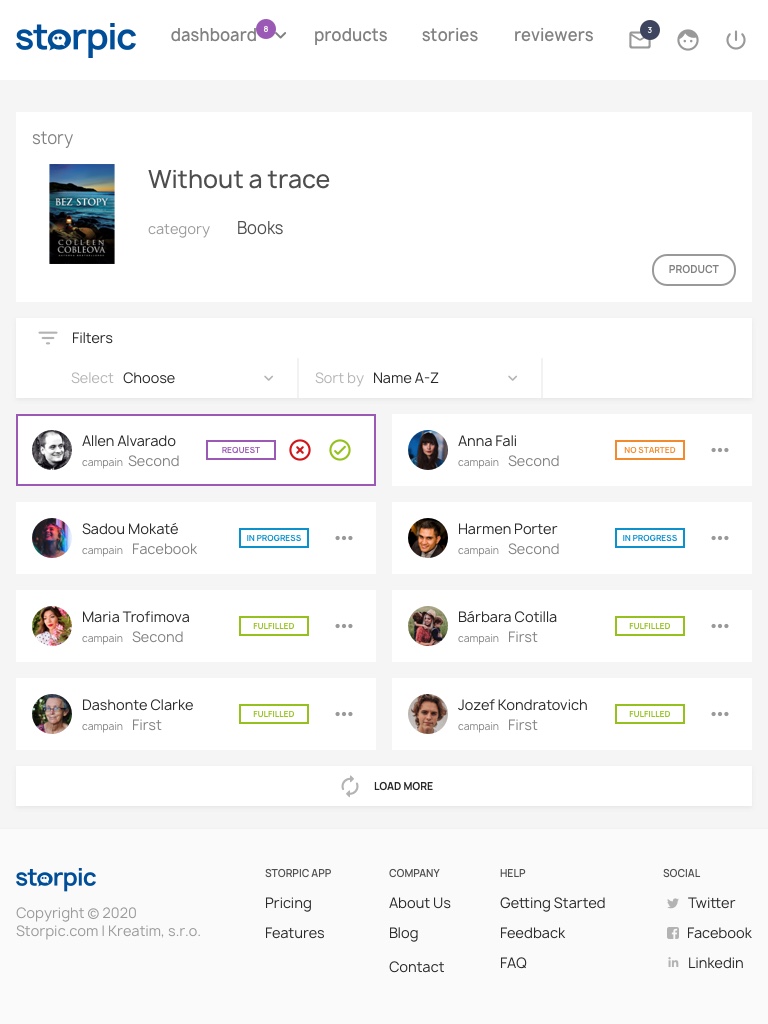 Start getting new reviews for free!
Sign-up and for the first 25 reviews you can use all the features of storpic for free.Only then you willbe able to see, if storpic has saved you money and time.
Pricing
All Storpic features are available in all plans. The price depends on the number of stories per mont,h that you want to have your reviewers tell. Nothing more.
How the numbers of your stories will grow,
storpic adapts to you with prices
Not sure which plan is best for you?
Just get started and the first month is 25 reviews completely free. Try what Storpic can do and write us what your goals are. We will try to advise you on how to best and gradually use the potential we have at storpic for you.
FAQ
Want to know more about Storpic?
Contact the sales department
sales@storpic.com
Would you need advice on reviews and marketing? We are here for you, write to us
Support
support@storpic.com
Found a technical issue or would you like to review another type of review? Contact us.